The purpose of this lesson is to inspire and engage students to use creative and critical thinking skills to make decisions and designs that impact an urban area. This cross-curricular approach to Design Thinking, allows students the freedom to use and connect  their inquires to real examples. The activity is intended for group or collaborative learning and uses a combination of whole class and small group facilitation with access to a variety of tools. The final product is a Design and proposal of a chosen Urban Landscape in their own community. Minecraft (and lego) are ideal platforms for students to use resources and tools collaborative to display their concepts.  The example lesson (below)  was facilitated with a group of 7th and 8th Graders in the Gifted Program at HWDSB.
Design Thinking – How are Urban Landscapes changing to meet the needs of people and communities of the present and future?
Throughout their schooling, our students learn why cities are built along waterways. Most Social Studies  (History, Geography) curriculums emphasize the impact of Early Settlements and Explorers at the turn of the 19th Century. Students learn about industrialization and as they move along in grades and age, they begin to make connections between the age of industrialization, globalization, communities, Social Justice and Environment.  Our learners have and will make strong connections about how the age of industrialization has impacted them and the world around them. Eventually, they will use this knowledge to move forward and apply 21st Century technologies to make change and adaptations to the world around them.
The picture here is Hamilton, Ontario, situated on the Western part of Lake Ontario (across from Toronto, South of Niagara Falls). The area at the bottom of the picture display the industries and factories that gave Hamilton it's nick name – Steel Town.  Over the last few years, many of these factories have downsized, been bought out, or have shut down.
This is a REAL  example that IMPACTS my students. It is their community, their city, their economy. They need to feel compelled and INSPIRED to care, to understand why this single example connects to people and events around the world.
Ask the Learners to think Big: How can  old technologies and industries be transformed to meet the needs of today..and the future? WHY does it matter?
In most big cities, there are areas just like Hamilton where the industries that occupy the space are changing in scale and nature. Many are approaching the end of their time. This is an excellent opportunity to have students explore, investigate and make real world connections. Who knows, maybe one of their ideas and concepts will become a reality.
Ask them  to think BIGGER.
What makes a good city? Why?

What is the difference between demolishing and restoring?

How are cities changing or how should they change to meet the needs of a growing population?
Invite students to make GLOBAL Connections – In this short and compelling talk Kent Larson gives many examples of how cities and industries are changing to meet the needs of the future.
Kent Larson: Brilliant designs to fit more people in every city gives some examples that apply to the now and the future….
Bring it back to a local example and invite students to share potential ideas, concerns and insights from those shared by Larson. Are the innovations realistic? Doable? Possible? How do the ideas and theories from other communities impact our community?
Return to Barton and Tiffany (Hamilton's Industry Land)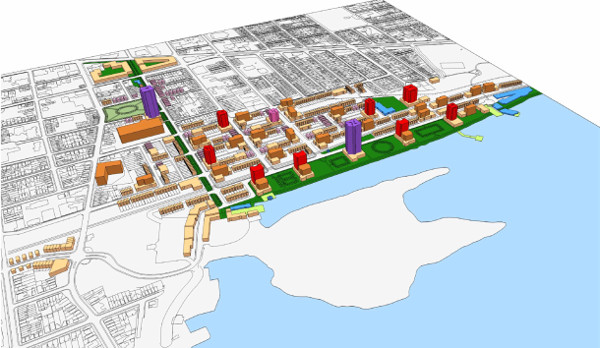 Invite students to explore examples from other local areas. Examples that are real and possible. Here is one from Hamilton's Neighbour – Toronto.The Cherry Beach area, along the Toronto Waterfront that seems to only be used by locals. Paths, and parks boarder along industries and along the waterfront.
Invite students to share the many examples of how land and space can be restored to attract people and improve communities. This picture is an example of bike and pedestrian paths that were added behind roads, beside roads, on the side of factories and even along old rail lines, eventually leading to the Beaches area of Toronto.
The TASK:
1) In pairs or groups, continue to investigate the history and examples of urban redevelopment both locally and globally.
2)Draw, Sketch and Discuss alternatives to the land.
3) Co-create and build the land in the Minecraft and/or LEGO Environment – Flat Land (collaborative server).
4) Using a shared Document, presentation style, ADD a captured screen shot of the proposed concept/design.
https://docs.google.com/presentation/d/1bMz0s5L1sdf6CHRAVBraqnURGGw3jW03S4GSGCVZga4/edit#slide=id.g2a828f7ba_00